Heated Floor Systems
ComfortTile Floor Heating Cable and Mats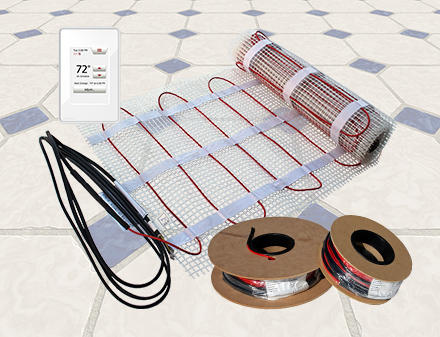 Experience the luxurious warmth of radiant heated floors. Warmzone carries industry leading radiant heat systems, including CT heating cable and mats. ComfortTile floor heating mats add minimal floor buildup of barely 1/8-inch, making it an optimal solution for new construction as well as renovations. CT floor heating systems are ideal for heating tile floors, but can also be used to efficiently heat laminates, marble and other flooring surfaces.
CT cable is a durable, twin-conductor heat cable that can be installed under any flooring. The heating mats are pre-terminated, and have a protective waterproof, metallic shield, making them safe for use in both dry and wet environments, including tiled shower and bathroom floors. ComfortTile is designed to produce 10 to 15 watts per square foot and is an excellent choice for heating both residential and commercial projects, from small bathrooms to commercial office space. The floor warming mats are pre-terminated for use with 120 and 240V, and are designed to heat an area 24-inches wide (available in various lengths).
ComfortTile floor heating systems consist of premium heat cable and choice of advanced floor heating thermostat. This complete system is an industry leader, and Warmzone's most recommended floor heating solution. CT heated floors operate silently, efficiently and are maintenance free.
Floor Heating System Thermostat
The Warmzone series electronic on/off thermostats are designed to control electric radiant heating systems for maximum comfort and minimum power consumption. The system temperature is controlled by an external or built-in sensor. The heat output is switched on or off with a difference of 0.7°F (0.4°C).
The TOUCH thermostat and TOUCH thermostat with WIFI capability features an easy-to-use interface with an installation wizard that simplifies the install.
Thermostat Features Include:
● The custom app (iPhone and Android) provides a variety of system controls.
● 3½-inch color screen with easy interactive touch control.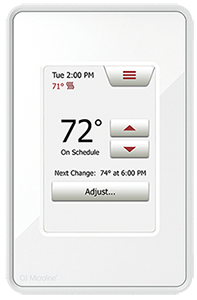 ● Easy scheduling method and even easier on the fly changes.
● Power consumption is saved in detail to your user account.
● Thermostat settings can be exported to web page for technical support.
● Universal compatibility with existing floor heating sensors.
● Suitable for tile, stone, laminate, concrete and wooden floor.
● 5 year battery backup of clock and calendar.
● QR code support (patent pending).
● Sleek, attractive design that is easy to use (patent pending).
● Child lock
● Supported languages: US English, Canadian French, Mexican Spanish.
● Three control modes:
Ambient temperature with floor protection
Floor temperature with floor protection
Ambient temperature without floor protection (regulator mode w/o sensor).
● Two date formats: mmddyyyy, ddmmyyyy.
● Two time formats: 24 hours, 12 hours.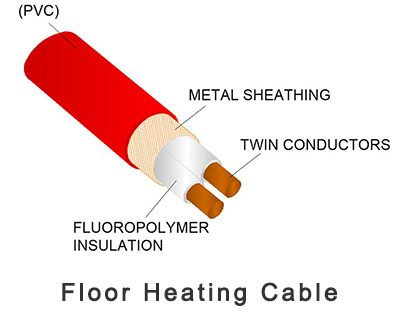 Additionally, Warmzone offers free installation training. This service ultimately saves installers time and money. Radiant heat systems are only as good as the installation, which is why Warmzone provides this valuable service, as well as free installation tech support.
Whether you are building a new house that a heated floor system can be planned for, or adding radiant heat to your existing floor, Warmzone has a wide variety of energy efficient radiant heat solutions to choose from. Warmzone's website is perhaps the most informative radiant heat site online, and their representatives are experienced pros who are friendly and willing to discuss your project without any sales pressure.
ComfortTile Heat Cable Specifications and Technical Data
| | |
| --- | --- |
| Cable Construction: | Twin conductor |
| Rated Voltage: | 120 V, 240 V |
| Output | 12W/ft2 (130W/m2)±10% (at recommended spacing) |
| Recommended Spacing | 3-inches (76.2 mm) |
| Bending Radius | 1-inch (25.4 mm) |
| Cable Diameter | 1/8 to 1/6-inch (3.2 mm - 4.2mm) |
| Conductor Insulation | Fluoropolymer |
| Outer Insulation | High Temperature PVC |
| Max. Ambient Temperature | 104°F (40°C) |
| Min. Installation Temperature | 40°F (5°C) |
| Cold Lead | 2-wire 14-17 AWG plus ground braid; 10 foot (3 m) length |
| Standards | Meets all test requirements of IEC 60335, CAN/CSA – C22.2 No. 130-03, UL 1673. |
| Approvals | Certified by Intertek SEMKO against relevant IEC / EN 60335, UL and GOST Standard. |
Call a radiant heat expert today to learn more at 888.488.9276.